The ach Christmas Gift Guide is out you guys—from sexy, modern rose gold bartending kits that is home-envy worthy to ancient immunity boosters like organic ashwagandha powder, here are 12 inspired Christmas gifts for people who like to eat, rest and play.
1. Rose Gold Bartending Set from Amazon
Perfect for the home bartender to whip up some impressive cocktails for guests, this Mixology Rose Gold Bartender Kit: 10-piece Bar Tool Set with Bamboo Stand, $116.10 is a dream for home owners with a penchant for copper and rose gold kitchen accessories. Great for beginner and professional bartenders alike, this bartending kit can double up as home décor in the kitchen while keeping all the tools nifty and within hand's reach. The entire set is made of stainless steel alloy, unlike cheaper grade copper products which rust easily.
Shop here.
2. The Sleep Range Aromatherapy Set, from In-heal
You know, that friend or family member who can't sleep at night and always complains of insomnia? Gift this Sleep Range Set, $59.90 (U.P. $71.70) of three aromatherapy roll-ons this Christmas. The Love Potion is made of organic ylang ylang, cedarwood atlas and geranium for romantic moments in the bedroom, while the Sleep Brain is made of organic vetiver and chamomile, perfect for busy and anxious minds who can't seem to quiet down. The Be Happy concoction is made of organic marjoram, bergamot and ylang ylang to stimulate positive emotions and lift moods, great for use on days when you feel down and uninspired.
The Sleep Range roll-ons are handpicked by certified aromatherapists from In-heal and come in a velvety gift pouch that is perfect for Christmas gifting.
Shop here.
3. Brow SuperStars! Set, from Sephora
We'd recommend this Limited Edition Brow Superstars! Set, $114 from Benefit for your practical girlfriends. Unlike make-up and lipsticks which may be subjected to personal preferences, brow products are simple and straightforward—with only a two shades to pick from—light or dark brown. It doesn't hurt that the packaging is also super cute, and who doesn't need brow products that can define, fill, sculpt, highlight and transform 'em brows? This one pulls out all the (brow) stops—out of a hat, literally. Yas.
Shop here.
4. The Romantic G-Spot Vibrator, Smile Makers
Send your girlfriends some pleasure-positive vibes this Christmas—The Romantic Sensous G-spot Vibrator, $99.95 will take self-care to the next level. With a powerful motor embedded in its curved head, these vibrators send deep vibrations to your G-spot while its ridged sides stimulate the nerve endings of the lower third of the vagina.
Shop here.
5. Ashwagandha Powder, from Amazon
For wellness-centric friends and fam, this Organic Ashwagandha Powder from Aspen Naturals, $27.16 can help boost immunity. Dubbed Indian Ginseng, ashwagandha powder is one of the most important medicinal herbs in Ayurveda that has been used for over 3,000 years. This helps the body relieve stress and promote sleep, also aiding in healthy brain and body function during the day. Add this powder to your teas or coffees daily for an added health boost.
Recipe for Ashwagandha Latte (from Aspen Naturals)
1 tsp honey
1 pinch cardamom powder
½ tsp cinnamon
1 cup almond milk
1 tsp Aspen Naturals Organic Ashwangdha Powder
Shop here.
6. The Ultimate Gift of Wellness, from Alo Yoga
Spark joy and movement and gift yourself or a loved one this Ultimate Gift of Wellness Set from Alo Yoga at almost 50% off! With all you need to achieve your individual wellness and fitness goals, this set comprises an Alo Moves Annual Subscription Gift box for the whole of year 2021, 1 Alo Warrior Mat, 2 yoga blocks, 1 yoga strap and the brand's iconic Alo Shopper Tote.
The Alo Warrior Mat is made of non-toxic, formaldehyde-free natural rubber and has moisture wicking and antimicrobial properties. Use code EARLYACCESS20 for the pre-sale. The cherry on top? Free worldwide shipping to Singapore.
Shop here.
7. 2021 Daily Planner, from The Day Designer
The Day Designer, $86.41 is the perfect gift for your planner addict friends who needs to plan for an amazing 2021. We love it that it's larger than usual planners at 9" by 9.75" so a lot of scribbles and plans can easily fit on just one page. Apart from daily planning pages, it also includes a calendar view, a 12-month overview on a two-page spread for long-term planning. Also check out their Monthly Wall Calendar, $36.44 with generous writing space to manage a hectic schedule.
The Day Designer planner features exquisitely detailed daily planning pages timed from 5am to 9pm as well as a separate to-do list so that you can fit your tasks into the schedule. Be warned: it's pretty heavy though, with a thick hardcover and spine; but the details in it? Spot-on and ocd-approved.
Shop here.
8. Quirky art prints for the home, from Society 6
Society 6 is filled with beautiful and quirky art prints designed by artists all around the world that will be sure to thrill your friends and fam. It makes for a lovely gift for homeowners, artsy friends who you know will appreciate it. Pick out one that resonates with him or her to make the gift more meaningful. Fastest fingers first though — Society 6 is having 50% off all wall art for Cyber Week!
Shop here.
9. Gorgeous Scented Candles, from Breathe Essentials Co
Candles from Breath Essentials Co are 100% made from cocosoy wax, free from sulphate, parabens and phthalates, and handpoured in Singapore. The Balsam & Clove Candle, $49 has gorgeous notes of clove, spicy cinnamon and balsam which will be a lovely and welcoming scent for the home for this Christmas' festivities.
Shop here.
10. Flower Pot, from Maison Marcel
This minimalistic but edgy Flower Pot by OYOY, $140 is unique due its knobby decorative handles that captures attention. The pot is fully handmade with ceramic and makes for a lovely gift for all the plant mamas you know.
Shop here.
11. Handmade Lavender Wreath, from Rabbit Island
Shake things up from the usual Christmas wreath and gift this Handmade Lavender Wreath, $58. Any friend who loves bohemian chic vibes would probably love this. Or keep it traditional and pick from a plethora of festive plants for gifting on the site like the Premium Poinsettia Red, $38 and get the Christmas gift delivered straight to your friend's doorsteps!
Shop here.
12. Bailey Bunny Pillow, from Crate & Barrel
Crate & Barrel is having a year-end 15% sale on all items, including Christmas gift worthy stuff—like this Bailey Bunny Pillow, $105.70 that is super festive for the home and also cute Christmas décor like this Whimsy Santa Mini Christmas Tree Set.
Shop here.
Your friends when they receive your gift: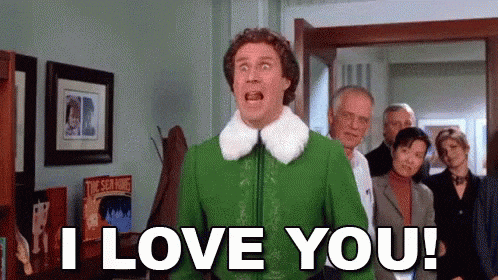 via giphy
Cynthia has a soft spot for traditions and culture. For her, a good ol' cup of kopi and kaya toast hits the spot better than any fancy café fare—with the sole exception of pancakes.